Australian Embassy
Poland
Embassy address: 3rd Floor, Nautilus Building, ul. Nowogrodzka 11, 00-513 Warsaw - Telephone: +48 22 521 3444 - Fax: +48 22 627 3500
Welcome to the Australian Embassy in Warsaw

Australian Embassy in Poland, Czech Republic, Lithuania on Facebook
New ! Australia-New Zealand Social Network

Resident Warsaw Aussie Adam Kardas is organising an Australian-New Zealand friendship group in Warsaw. Adam is calling all Aussies who are interested, to join in and attend the first 'Aussie-Kiwi Mixer' on Monday 8 June.
Venue: Bar/Restaurant NA LATO, 44a Rozbrat Street. From 6.30 pm – 10.00pm. We will be celebrating the Queen's Birthday.
Entry is free - everyone buys their own drinks and nibbles.
The organisers expect that this event will be the start of many great mixers of Aussies and Kiwis living in Poland, as well as Poles who have lived in Australia and New Zealand.
The aim of the mixer is to celebrate and promote Australian and Kiwi traditions whilst living in Poland, to foster the Oz and Kiwi culture, lifestyle and business relations.
If you're unable to take part in our first event, but you are interested in our future mixers, please send your contact details to aussieinwarsaw@gmail.com .
The mixer has a Facebook site where you can find out more and to confirm your attendance.

Australian Embassy Ukraine

The Australian Embassy in Kyiv, Ukraine is now open. All enquiries should be made by telephone or email in the first instance. Please click here for the Embassy's contact details.

Work and Holiday Visa Arrangement
On 12 March 2015, the annual visa limit of 200 places for Polish citizens was reached. This means that the programme for the current programme year (01/07/2014-30/06/2015) has been closed. The programme for next year will start on 1 July 2015.

Further information on the work and holiday visa programme can be found at Work and Holiday (subclass 462) www.immi.gov.au/Visas/Pages/462.aspx and www.germany.embassy.gov.au/beln/work_and_holiday.html .

The Polish Ministry issues the required official letter of support. Please visit http://www.mpips.gov.pl/praca/program-zwiedzaj-i-pracuj/program-zwiedzaj-i-pracuj-australia/ for more details (in Polish).

Update of Travel Advice for Ukraine
Due to the serious situation in Ukraine we advise Australians to exercise a high degree of caution and regularly check our Travel Advice for updates:
www.smartraveller.gov.au/zw-cgi/view/Advice/Ukraine

---

Australia-UNSC.gov.au
Australia and the UN Security Council

Australia will serve on the United Nations Security Council during 2013 and 2014.
Security Council Press Statement on Terrorist Attack in Nairobi, Kenya
United Nations Assistance Mission in Afghanistan (UNAMA)
Syrian Chemical Weapons Report
---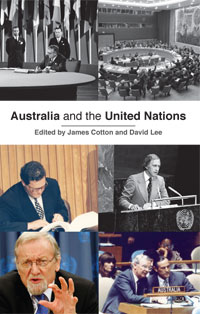 Australia and the United Nations

The book, "Australia and the United Nations", details Australia's long and distinguished role on the multi-national stage, as a founding member of the League of Nations, through to the formation of the United Nations, and the present day seat on the UN Security Council. (more)